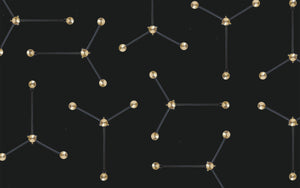 Yoke is a mini organization system with visual appeal
Yoke Wall Hook
Yoke is a Y shaped wall hook for keeping everything organized. Cast in aluminum with brass or wood knobs, Yoke is a sturdy and stylish wall accessory.
Strong, easy to install and stylish, Yoke is a mini organization system.
Yoke was inspired by our kids who come home from school each day with various things to hang up including back packs, jackets and hats. Clearly, one hook for each of our three kids wasn't cutting it as most of their stuff would end up on the floor each day. Yoke now provides plenty of space for all their gear. — Ryan Taylor, designer
Spacing of each spindle was carefully considered to allow for multiple bulky items to hang with ease.
Get creative and use multiple Yoke's to create mesmerizing wall systems by rotating them on their axis and installing them in any direction.
Yoke is easily installed using the included brass screws.
Details
Materials: sand cast aluminum, brass and/or wood knobs
Finishes: 
Aluminum — powder coated sandtex black
Brass — uncoated (will patina with use)
Wood — Walnut stain
Dimensions: 23cm x 22cm x 8cm / 9.75" x 8.75" x 3.25"
Installation: Brass screws & wall plugs included
Origin: Made in Canada
Downloads